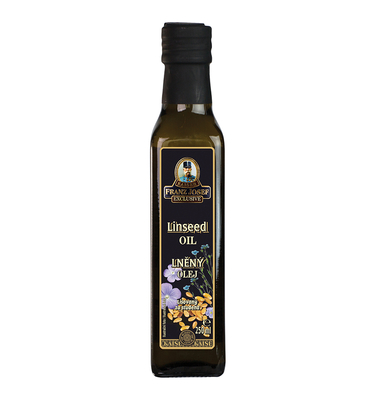 Linseed Oil 250 ml
Franz Josef Kaiser
---
Single-source vegetable oil.
Volume: 250 ml
Processing method: cold-pressed.
• High in Omega-3 and Omega-6 fatty acids and vitamin F.
• Thanks to this exceptional composition, it supports normal blood cholesterol levels.
• It has a fine nutty flavor.
• Suitable for cold food preparation – for spreads, sweet cereal mash, vegetable and fruit salads.
• It is also used as a body and massage oil or as a serum or hair mask. It softens dry skin and regenerates it.
Nutritional values per 100g net weight:
Energy
3461 kJ / 827 kcal

Fat

- of which saturates
- of which mono-unsaturates
- of which polyunsaturates

92 g

9,6 g
16 g
66 g

Carbohydrate

- of which sugars

0 g

0 g

Protein
0 g
Salt
0 g
The mentioned product information can differ depending on each individual product. We thank you for understanding.