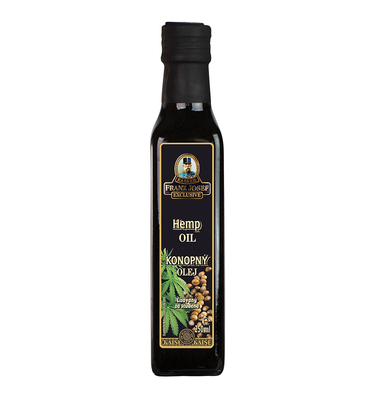 Hemp Oil 250 ml
Franz Josef Kaiser
---
Single-source vegetable oil.
Volume: 250 ml
Processing method: cold-pressed. Obtained from plant seeds Cannabis sativa (cannabis).

• Hemp oil does not contain THC and therefore has none psychoactive effects.
• With an ideal ratio of Omega-3 and Omega-6 fatty acids, that are necessary for the right growth and immunity.
• It has a deliciously spicy flavor.
• Suitable for preparing cold meals - for salads, on spreads, mash, or as potato dressings.
Nutritional values per 100g net weight:
Energy
3461 kJ / 827 kcal

Fat

- of which saturates
- of which mono-unsaturates
- of which polyunsaturates

92 g

8,8 g
15 g
66 g

Carbohydrate

- of which sugars

0 g

0 g

Protein
0 g
Salt
0 g
The mentioned product information can differ depending on each individual product. We thank you for understanding.