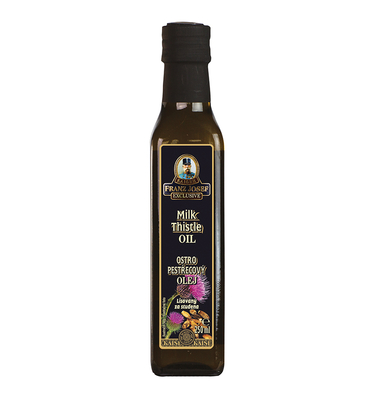 Milk-Thistle Oil 250ml
Franz Josef Kaiser
---
Single-source vegetable oil.
Volume: 250 ml
Processing method: cold-pressed. Obtained from the seeds of the Milk Thistle plant.
• Suitable for flavoring salads, porridges, dressings and sauces.
• The most well-known and most commonly described effects of Milk Thistle include its positive effect in liver diseases, when it helps to regenerate them.
• The taste of this oil is very delicate without significant specific characteristics. 
Nutritional values per 100g net weight:
Energy
3463 kJ / 827 kcal

Fat

- of which saturates
- of which
- of which

92 g

16 g
22 g
52 g

Carbohydrate

- of which sugars

0 g

0 g

Protein
0 g
Salt
0 g
The mentioned product information can differ depending on each individual product. We thank you for understanding.